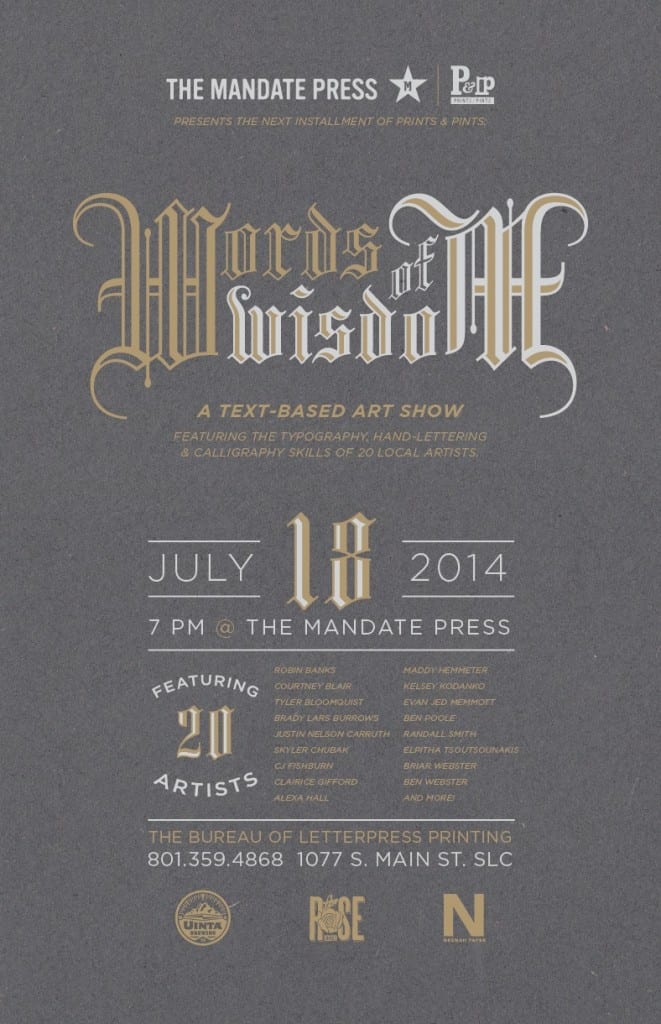 It's time for another edition of our Pints & Prints letterpress invitational show! This time all the artwork will be featuring typography, hand-lettering and calligraphy from 20 local artists. Friday, the 18th of July at 7 PM.
Refreshments and drinks will be provided by our partners  Uinta Brewing and The Rose Establishment. Free as always.
Artists being featured:
Robin Banks • Courtney Blair • Tyler Bloomquist • Brady Lars Burrows • Justin Nelson Carruth • Skyler Chubak • Dan Evans • Clairice Gifford • Talia Goldsmith • Alexa Hall • Maddy Hemmeter • Kelsey Kodanko •  Sean Patrick McPeak • Evan Jed Memmott • Natalie Shahmiri • Randall Smith • Elpitha Tsoutsounakis • Briar Webster • Ben Webster • Alexis Yelonek
Join the Facebook event: Words of Wisdom
This installment of Prints & Pints is in partnership with Uinta Brewing and the Rose Establishment.
Once they're gone, they're gone. Discounted prices night of show opening only.
11×17 prints $25 online / $20 at show
8×10 prints $20. online / $15. at show